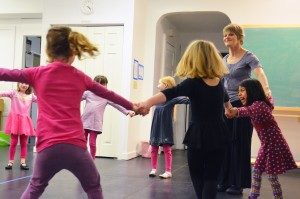 What is the power of theatre? Theatre transforms. Participating in a theatre arts experience leads people to examine their perspectives and broaden their worldview. Theatre connects. Theatre artists connect with their communities and collaborate.
This Spring and Summer we invite students ages pre-K through grade 12 to experience the power of theatre with the Fulton as we re-launch
the Academy of Theatre! The Fulton is proud of our professional Teaching Artist staff comprised of artists that are dedicated to working
and growing in their art.
Teaching Artists aim to meet the needs of a broad spectrum of learners. Our programs develop theatre arts tools and also important lifelong
skills such as creativity, communication, and building confidence. Become part of the Academy of Theatre this season and nurture the
artist within. Check out our scholarship program online. Register today. We hope to see you soon.
Early Childhood Program
Young children (ages 3-5) explore dramatic play through storytelling, music, dance/movement, and puppetry. The Early Childhood Program develops creativity, social and emotional skills, and problem solving techniques.
Elementary School Program
Elementary aged youth explore the many components of the performing arts. Students hone their skills focusing on their Actor's Tools: Body, Voice, Imagination, and Ensemble Cooperation.
Teen Conservatory
Teens will sharpen their skills for strong performance techniques and learn a depth of knowledge for theatre production. Students will discover the artist within through intensive exercises in acting, voice, physical movement/dance, and ensemble development.
Adult Program
Whether a professional theatre artist, a public speaker or a mom or grandfather, theatre classes add dimension to lifelong learning.
Production Lab
A marriage between our production and education teams.  An opportunity for young artists to employ their skills in a Fulton mainstage production.
Inclusion and Financial Aid

Fulton Theatre is an inclusive program for students of all abilities and need.  We provide resources to students who have medical and learning concerns and disabilities. Click Here to learn about our inclusion program.  To learn about financial aid Click Here.