A Dramaturgical Look at 'Ragtime'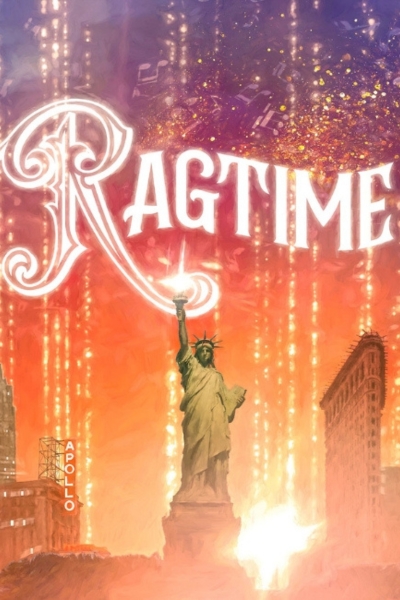 We are excited to bring you the story of Ragtime as a one-night-only benefit concert! Ragtime comes with a vast history both in the American musical theatre canon and also in the material it tackles in the libretto. Since we only have a limited time with this material for the sake of our benefit concert, we wanted to offer a space that provides the historical context for the creation of the musical and the historical and political climate in which the story is set.
Throughout this webpage, you'll find several posts that correspond with the posts made on our Facebook and Instagram accounts. While our social posts provide a surface-level look into the topics of Ragtime, this page aims to provide you with links to external articles and videos, put together by reporters, researchers, writers, and historians, that offer a deeper look into the history behind Ragtime. We hope you use these resources to further engage with the world of Ragtime and the important history it holds.
Post 1: Who was E.L. Doctorow?: Ragtime the Novel

The musical Ragtime was adapted in 1998 from a novel of the same name. Edgar Lawerence (E.L) Doctorow (1931-2015), published his novel "Ragtime" in 1975. Born in the Bronx to second-generation Americans of Russian-Jewish extraction, Doctorow attended Kenyon College for his undergraduate degree before moving on to Columbia University to complete a year of graduate work in English Drama. He was drafted into the U.S. Army and served as a corporal in the signal corps in West Germany between 1954 and 1955. After serving, Doctorow spent his early career as a book editor before leaving publishing to pursue a career in writing. He penned 12 novels, 4 short story collections, one play, and a number of other works throughout his lifetime. Doctorow taught at Sarah Lawrence College, the Yale School of Drama, the University of Utah, the University of California, Irvine, Princeton University, and New York University. 
Doctorow wrote Ragtime while living in New Rochelle, NY, with his wife Helen and their three children, and used his surroundings as one of many of the novel's settings in and around New York in the early 1900s. In Doctorow's obituary, the New York Times describes the novel as "Written in a declarative, confident voice with an often dryly arch tone mocking its presumed omniscience, the novel seemed to both lay claim to authoritative historical perspective and undermine it with winking commentary."
"My previous book, The Book of Daniel, had been published the year before, and I had been emotionally depleted by it. So I sat around for a year. And I was staring at the wall, and had arranged my desk so that the only way out was through the sentences. I began to write about the wall, and I realized that this house was the first house on the hill built at that time. And then I imagined what things looked like from the bottom of the hill. From one image to another, I was off the wall and in a book." E.L. Doctorow on writing 'Ragtime'
More information on E.L. Doctorow and Ragtime the novel
Post 2: The Creation of Ragtime the Musical
How did Ragtime go from being an almost 200-page novel to a Tony award-winning musical? Well, it took a movie adaptation that Doctorow disapproved of, lunch at the Russian Tea Room, and one very convincing Broadway Producer. In December of 1993, Broadway Producer and theater owner Garth Drabinsky, took Doctorow out to lunch in order to convince him that a musical version of Ragtime would do better justice to the complexities of the novel's truth than the movie adaptation did.
After getting Doctorow's approval, Drabinsky commissioned playwright Terrence McNally to write a script based on the novel. Doctorow felt McNally's 60-page adaptation truly honored his novel. After securing McNally for the book, Drabinsky invited 10 of the most popular composers of the time to send in auditions for the chance to write the budding musical's libretto. Dabrinsky and Doctorow ended up settling on songwriting pair Ahrens and Flaherty for the job after falling in love with the 12-minute opening number that pulled language straight from Doctorow's novel that the pair submitted in their audition. From there on, McNally, Ahrens, Flaherty, and on occasion, Doctorow met, wrote, and developed the musical that would go on to win the 1998 Tony Awards for best music, lyrics, and book. McNally, Ahrens, and Flaherty would go on to write the musical retelling of Anastasia, and Ahrens and Flaherty would become one of the most prolific composing and lyricist duos in the modern musical theatre canon writing music for Once on this Island, Seussical, Rocky, A Man of No Importance, and others
"Some nine writing teams were asked to audition for Ragtime… We had exactly 11 days in which to write and produce four demos, in between other projects,.. We tried to choose ambitious moments that would show we could write a large-scale piece, especially because it was something we'd never done before. We didn't [personally] know Terrence McNally… and we were thrilled at the possibility of working with him. So, in this sweeping opening number, I introduced each of the main characters using bits of narrative from Terrence's treatment to show that we were sensitive to his text. And, we emphasized the over-arching themes of a changing, "exploding" America, a clash of races and cultures, the disparity of rich and poor." –Lynn Ahrens
More information on the McNally, Ahrens, Flaherty, and the creation of Ragtime the musical:
Post 3: The Climate of Ragtime: America from Gilded to Progressive
The Story of Ragtime is set in the early 1900s, sandwiched between the end of the Gilded Age and the beginning of the Progressive Era. A tumultuous time for America and the world as a whole, Ragtime picks upon the rising levels of inequality between wealthy Americans and Immigrants, the mounting international tensions that eventually led to WWI, the growth and ultimate collapse of the American Railroad system, and the social implications of growing suburban communities.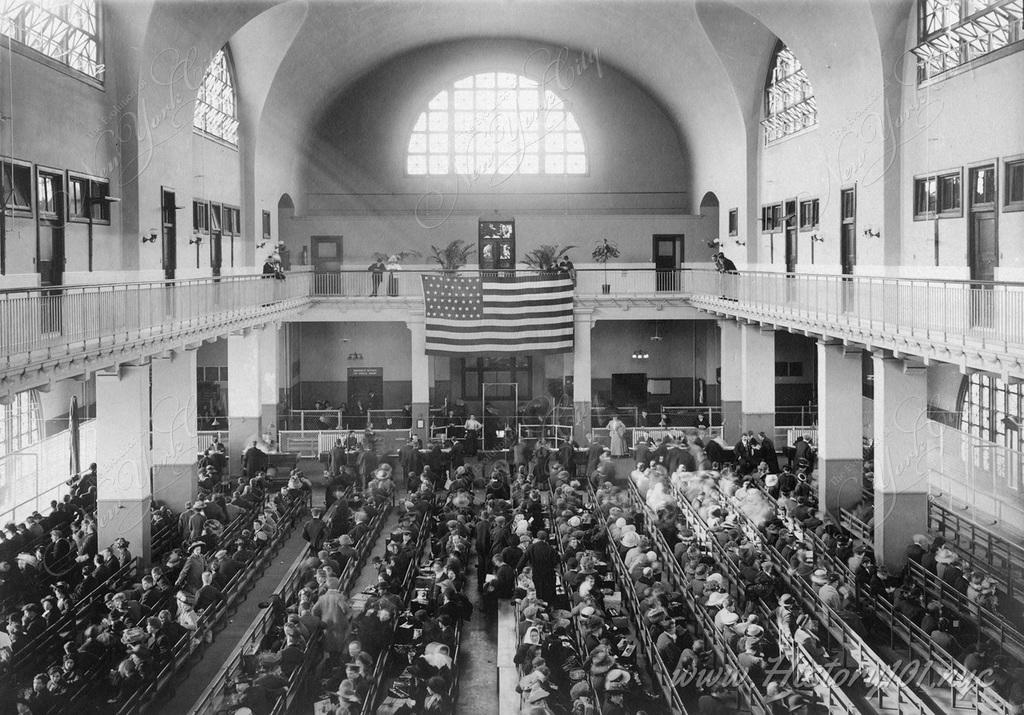 The Gilded Age (1877-1900), named for the period of economic boom after the American Civil War, was a time of rapid expansion for American Industry. Seeing an influx of factory, railroad, and mine development, America soared past Britian in industrial growth. As Industry grew, America saw a large influx of immigrants (roughly 20 million) looking for better labor opportunities, fleeing persecution or famine, or chasing the "American Dream." American politics of the time saw high election turnout and debates surrounding mostly cultural issues (prohibition, education, and diversity).  A national conversation was growing around the eight-hour working day, child labor laws, civil service reform, and women's suffrage. The Gilded Age also saw an ever-increasing wealth gap between "robber barons" like J.D. Rockefeller, Andrew Carnegie, and J.P. Morgan and the lower class. This gap created feelings of resentment and frustration among the working class due to the exploitation they were facing at the hands of wealthy businessmen.
The Progressive Era (1896 – 1917) was a period of direct response to the political and social tensions of the Gilded Age. It saw significant social activism and political reform that looked to eradicate the problems caused by rapid industrialization, urbanization, immigration, and political corruption. ⁠Progressives worked to regulate political machines and businesses with industrial monopolies. They also worked to promote the creation of government agencies and systems such as the FDA and the Federal Reserve System. They developed new systems of voting and established primary elections, the direct election of senators, and promoted women's suffrage to advance the voting rights of white American women. Support for the Progressives exited mainly among the middle class – layers, teachers, physicians, and ministers. Many of the Americans who amassed immense amounts of wealth during the Industrial Revolution literally took a page out of Andrew Carnegie's book The Gospel of Wealth and began to establish large foundations and other philanthropic endeavors.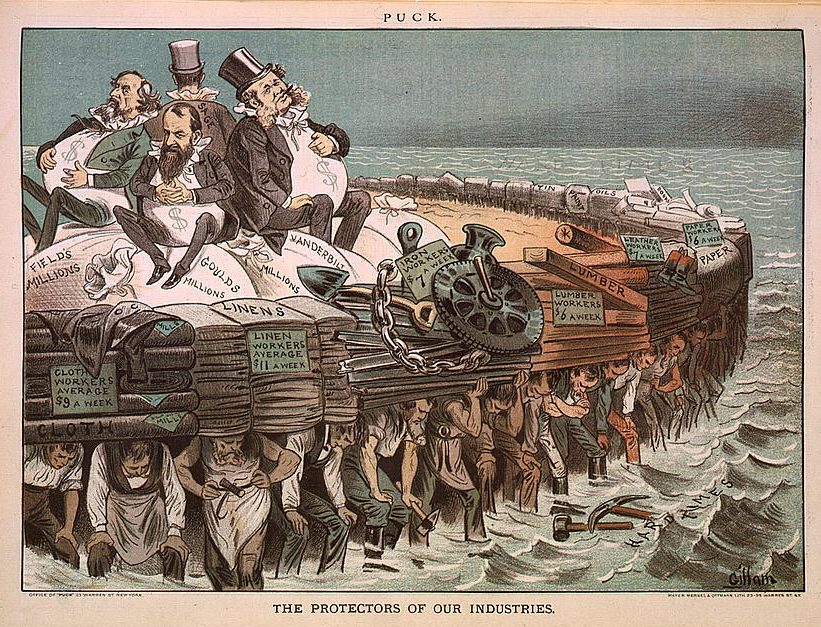 ⁠
Images: "Interior view of immigrants seated on long benches and awaiting processing at the Main Hall of the Immigration Station at Ellis Island in 1902. Image Credit: Edwin Levick." and "Protectors of our Industries" by Bernhard Gillam. Published by Keppler and Schwartzman in The Puck. 1883
More Information about the Gilded Age and Progressive Era:
Gilded Age
Progressive Era
World War I
Post 4: Characters of Ragtime – Mother
While Ragtime the Musical follows the stories of a number of different figures, there are three main stories that the libretto highlights. One of those figures is Mother, a refined, intelligent, graceful, and open-minded woman living in New Rochelle with her family. Wife of Father, mother to Little Boy, sister of Younger Brother, and daughter of Grandfather, she is the hub around which this upper-class suburbanite family operates.  Throughout the course of the musical, we watch as Mother develops new opinions on independence, love, sexuality, idealism, and daily life. Their house in New Rochelle is very much her domain and she spends the early part of the show in a homemaker role. In meeting other characters throughout the musical, Mother comes to see that she possesses similar qualities and ideals to those living in more marginalized communities. She is the character who arguably undergoes the most social and emotional growth throughout the show.
Actress Marian Mazzie originated the role of Mother in the original Broadway production of Ragtime and is still lauded for her Tony-nominated performance. The role has been sung in concert performances by Maria Friedman (2002, St. David's Hall), Lea Salonga (2013, Avery Fisher Hall), Laura Michelle Kelly (2016, Ellis Island), and Kelli O'Hara ( 2023, Minskoff Theatre).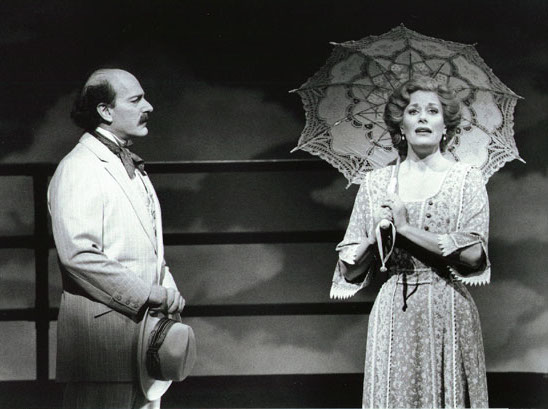 "Flaherty: A perfect lyric that Lynn gave me as a true gift. She felt Mother needed a final statement towards the end of Act 2 and this was it. Lynn never changed a single lyric from its first draft. She didn't need to: it was already perfect. Interesting sidebar: If you look at the rest of the score, Mother's numbers never "button"; she is unfinished and constantly evolving. Her character is not able to "button" until this moment. Enjoy the song as sung by the incomparable Marin Mazzie, whom I miss daily.
Ahrens: All hail Terrence McNally. "We can never go back to before" was a single line of text. It roiled around in my head for days, and one morning I woke up very early and wrote this lyric in one go. I faxed it to Stephen (yes, this was in the days of faxes) and he set it. Oddly, I had an entirely different meter in my head than what he came up with. But what he came up with was so much better! And here's another interesting sidebar: Mother is a soprano in Act 1, but this song allows her to belt at last! Marin gave the definitive performance of this song—a woman finally stepping into a new century with grace and self-empowerment. No one will ever be better." Ahrens and Flaherty on writing "Back to Before"

Image: "Peter Friedman and Marin Mazzie in the Original Broadway Cast of Ragtime"
More information on Mother, New Rochelle, and the role of women in the early 20th Century:
Post 5: Characters of Ragtime – Coalhouse Walker, Jr.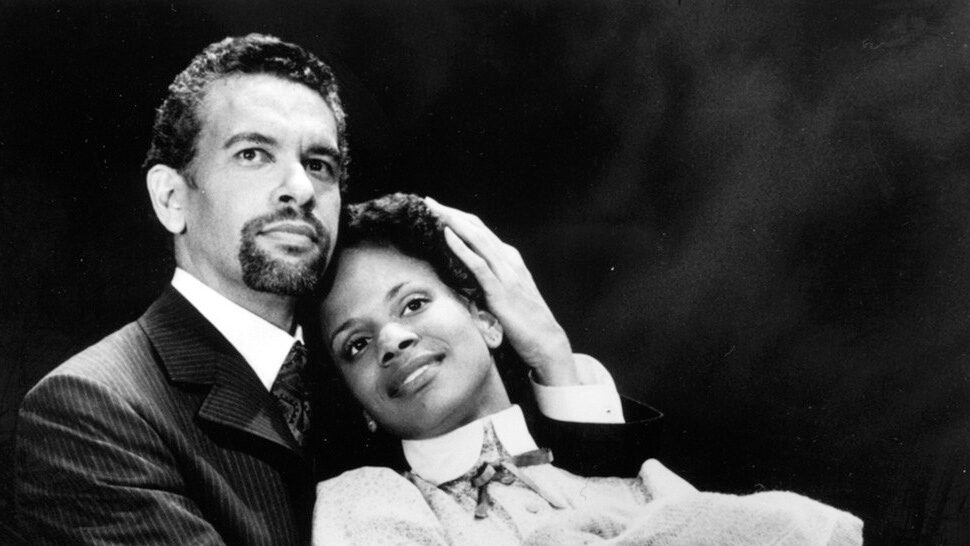 Coalhouse Walker Jr is an amalgamation of the stories of many African American young men of the early 1900s. Originally from St. Louis, the fictional Coalhouse moves to Harlem after hearing the music of Scott Joplin and becomes one of the most sought-after Ragtime musicians in New York. Coalhouse is an early representation of the 6 million Black Americans who moved from the rural South to cities in the North, Midwest, and West as a part of the Great Migration. His musical genius speaks to the development of Harlem as a cultural mecca for African American literature, music, stage performance, and art of the Harlem Renaissance. Throughout the musical, we witness Coalhouse's journey from a proud, handsome, stylish, talented man into a person so consumed by grief that he'll go to the ends of the earth for justice. He begins the musical as a man who is "doing everything right" according to the structures of white society and ends the musical as someone who is failed by every aspect of the larger system.
Brian Stokes Mitchell originated the role of Coalhouse on Broadway and was nominated for Best Actor in a Musical at the 1998 Tony Awards. The role has been sung in concert performances by Lawrence Hamilton (2002, St. David's Hall), Norm Lewis (2013, Avery Fisher Hall), and Brandon Victor Dixon (2016, Ellis Island). Brian Stokes Mitchell reprised his role at the 2023 Benefit Concert at the Minskoff Theatre.
Flaherty: Coalhouse's backstory is sung by the Harlem Ensemble in this playful ragtime piece. It is our musical introduction to the world of Harlem.
Ahrens: This song serves as a joyous reveal of a main character, played by Brian Stokes Mitchell. Again, it's a little history lesson about a man's journey from stevedore to self-taught pianist who is "turnin' Harlem into art." It helps to transition us scenically from the Lower East Side to Harlem, and as always, Graciela's choreography made the scene change seamless. As the determined Tateh began to push his heavy cart upstage, a group of people entered downstage, dancing to the music of a man seated with his back to us, playing the piano. The stage went from one world to another without missing a beat—literally. The man at the piano swung around and sang the last line—and voila! There was Coalhouse Walker Jr. A true star entrance. – Ahrens and Flaherty on writing "His name Was Coalhouse Walker"
Image: Brian Stokes Mitchell and Audra McDonald as Coalhouse Walker, Jr and Sarah in the Original Broadway Cast of Ragtime.
For more information and articles:
Post 6: Characters of Ragtime – Tateh
Tateh, a Jewish man from Latvia, embodies the community of Eastern European Immigrants who travel to America in search of the "American Dream." Tateh's story falls within the "Third Wave" of immigration, or "New Immigration." These terms refer to the influx of Catholic and Jewish immigrants from southern and eastern Europe that arrived, mostly through Ellis Island, in the late 1880s -early 1900s. He comes to America with his daughter, Little Girl, by his side, filled with optimism and hope for what life in America could bring his family. Throughout the musical, however, Tateh experiences a separation from what he dreamed his American experience would be, and the realities of living in New York in the early 1900s. Despite being met with poverty and hardship, Tateh, whose name literally means "father" in Hebrew,  uses his love for his daughter as the source of his drive to rise to a higher socio-economic class.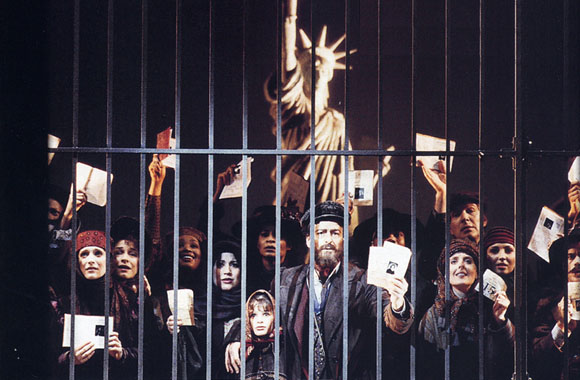 Peter Friedman originated the role of Tateh on Broadway and was nominated for Best Actor in a Musical at the 1998 Tony Awards. The role has been sung in concert performances by Graham Bickley (2002, St. David's Hall), Manoel Felciano (2013, Avery Fisher Hall), and Robert Petkoff (2016, Ellis Island). Peter Friedman reprised his role at the 2023 Benefit Concert at the Minskoff Theatre.
"Flaherty: The main theme that serves as the basis for this sequence is borrowed from an actual old immigrant song. This sequence was developed during the rehearsal process in Toronto when our director, Frank Galati, asked us all to "improv" the immigrant experience, using props and movement to create characters and to illustrate the emotions in coming through Ellis Island's gates. He asked me to accompany the improv at the piano, creating music on the spot. Every time Frank would yell "Gates!", the music would need to illustrate the large gates rising and falling down. (You can hear this at 0:15-0:25, 0:39-0:48 and 1:03-1:11.) We would eventually create and layer other vocal counter lines, in other languages, creating a tapestry of chaos and urgency, finally uniting everyone on the word "America."
Ahrens: I researched songs sung by immigrants of many nationalities, and eventually managed to weave a few together into a chorale, as hordes of immigrants enter through the gates of Ellis Island, each with their papers in hand and their dreams and expectations: "You'll soon be eating apple pie from off a china plate. Pretty dresses, pretty dolls, just wait!" It's of interest that in Anastasia, Terrence also envisioned a number for immigrants—but instead of the ones arriving in a new country, it would be for the ones leaving their homeland behind." Ahrens and Flaherty on writing "A Shtetl Iz Amereke"
Image: Original Broadway Cast of Ragtime
For more information:
Post 6: Historical Figures in Ragtime – Booker T. Washington
In both the novel and musical Ragtime, we meet a number of historical figures that help to contextualize the narrative. This structure allows us to think about characters such as Mother, Coalhouse Walker, Jr, and Tateh as representatives of a larger socio-economic group of people. By including figures like Harry Houdini, Booker T. Washington, Evelyn Nesbit, and Emma Goldman, audiences are able to imagine a larger commentary on American culture in the early 1900s. Throughout the next number of posts, we'll be looking at the historical figures highlighted in Ragtime and the context they bring.
We meet Booker T. Washington within the first three pages of Ragtime's opening number. He introduces himself as one of the most famous Black people in America who "counseled friendship between the races and spoke of the promise of the future." This line directly references Washington's 1895 Atlanta Exposition ( the"Atlanta Compromise" as W.E.B. Du Bois denotes it) Speech, the first speech made by a Black American in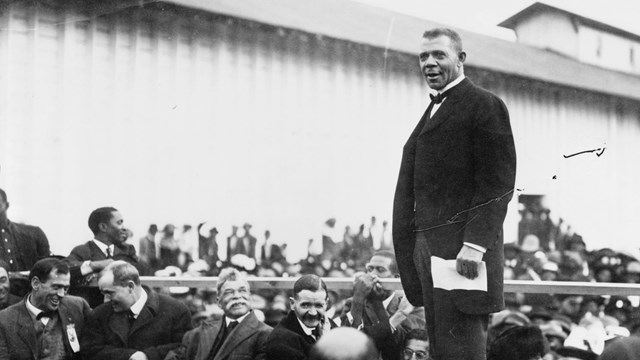 front of a majority white crowd. During this speech, Washington, who at the time was the president of the Tuskegee Institute, argued for vocational education and jobs in industrial fields for Black Americans with the idea that that is what would lead them to opportunities for economic advancement and wealth. He also argued that Black Americans should tolerate racist behavior, segregation, and discrimination, as well as not ask for the right to vote, but instead, they should receive free vocational training funded by Northern White people.  Black political leaders who came after Washington spoke openly against the points made in the "Atlanta Compromise." Figures like W.E.B. Du Bois took issue with Washington's points and argued instead that Black Americans should fight for their civil rights.
Image: Booker T. Washington addressing the crowd at the Opening of the Atlanta Exposition, September 18th, 1895
More information and resources on Booker T. Washington:
Post 7: Historical Figures in Ragtime – Harry Houdini
We meet Harry Houdini in the opening number, highlighted among an ensemble of Immigrants. He tells us that
"Harry Houdini was one immigrant who made an art of escape. He was a headliner in the top vaudeville circuits…He made his mother proud. But for all his achievements, he knew he was only an illusionist. He wanted to believe there was more."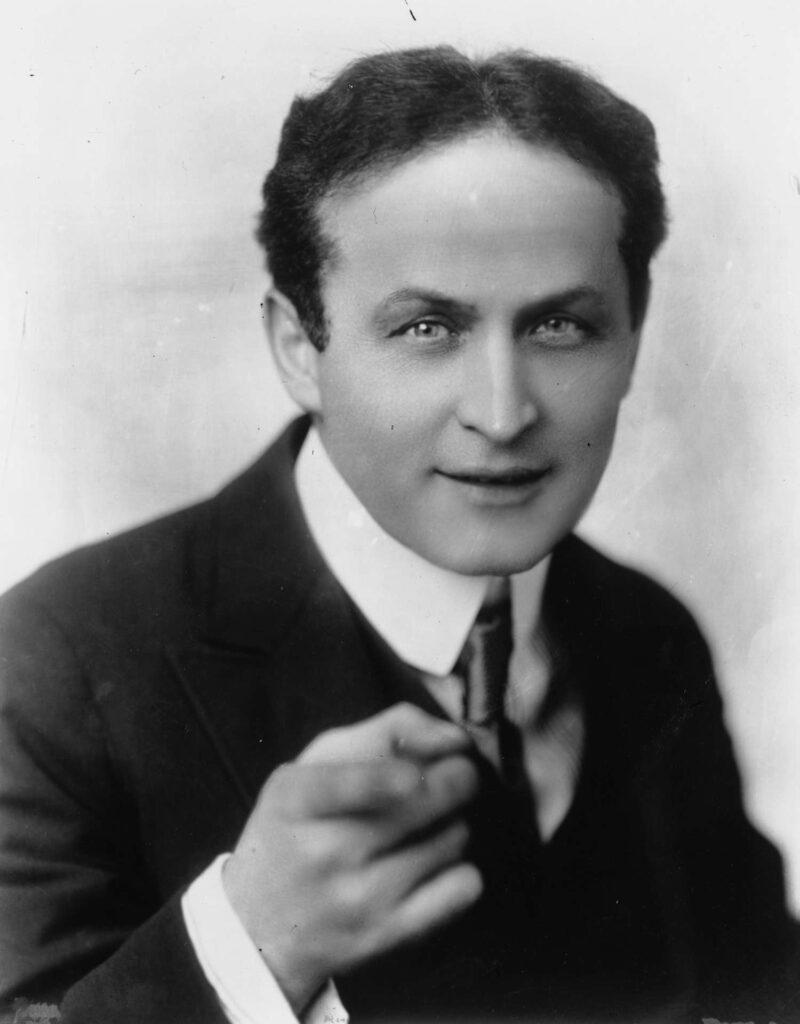 Houdini, born Erich Weisz in Budapest, Hungary, to a Jewish family, traveled to America in 1878 via the SS Frisia with his family. The Weisz family initially moved to Wisconsin, where Houdini's father was to be the Rabbi of the Zion Reform Jewish Congregation. However, in 1887, after Houdini's father lost his job, Houdini and his father moved to a boarding house in NYC, where the rest of the Weisz family followed. Houdini gave himself the stage name Harry Houdini after the famous French magician, Jean-Eugène Robert- Houdin. Houdini rose to fame in 1899 when, after taking advice from Martin Beck to focus his act on escape acts, he hit it big on the American vaudeville circuit. After becoming popular in America, Houdini toured Europe, where he became famous for challenging police officers to keep him locked up. From there on, Houdini sustained a riveting career of performing daring escape acts that wowed audiences across the world.
One of the most notable moments for Ragtime's Houdini comes in the opening number. After introducing himself, Houdini meets Little Boy, who tells him to "warn the duke." The Little Boy's warning is a reference to the assassination on June 28th, 1914, of Archduke Franz Ferdinand of Austria, the ultimate catalyst for WWI. This not only is an instance where Little Boy offers prophecy, but also it's the first instance where we see Houdini tied back to his Hungarian roots instead of his American fame. Throughout the show, Houdini begins to symbolize the "ideal immigrant" in the minds of the White upper class. He rises to fame without challenging the ideology of those who hold power in America at the time.
Image: Photo by Hulton Archive/Getty Images
More information on the life and escapes of Harry Houdini:
Post 8: Historical Figures in Ragtime – JP Morgan and Henry Ford
Henry Ford was an integral part of the Industrial Revolution in America. Not only was he the founder of the Ford Motor Company, but he also was the chief developer of the assembly line. Most notably, in 1908, Ford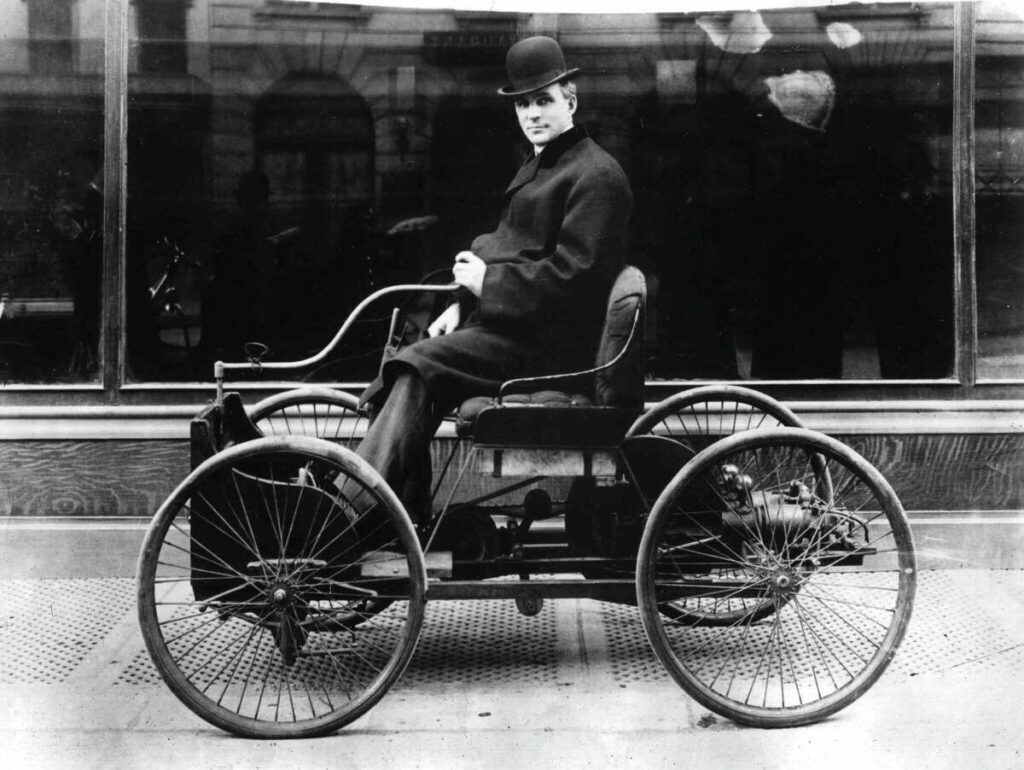 released the Model T automobile, the first affordable car for the middle class. The Model T was a revolution not only for quotidian transit in America but also for industrialization as a whole. Ford helped pioneer the 5-day work week. There is an industrial engineering and manufacturing system named after Ford. Fordism is widely considered to be the basis of social and labor-economic systems that support mass production and consumption. While Ford was known as a pacifist during WWI, he was also known for promoting antisemitic content in his newspaper The Dearborn Independent. He ultimately died in 1947, leaving his money to the Ford Foundation and his company to his family.
Henry Ford gets his own song in Ragtime. He appears along with an assembly line of workers who, throughout the song, build a Model T. Ford's lyrics throughout this number mostly highlight his philosophies around assembly line work, "Every worker/a cog in motion./well, that's the notion of/ Henry Ford." During this number, Coalhouse buys himself a Model T, which plays a large part in his character arc throughout the musical. In this instance, Coalhouse buys the Model T to impress Sarah. This whole number works to signify not only the exploitation that came of the development of systems of mass production but also the status symbol a Model T provided in America at the time.
"Flaherty: Our homage to Stephen Foster, another composer who hails from my hometown of Pittsburgh. A jaunty little banjo tune about big business, where everyone is a "cog in motion," it celebrates "mass production," even at the expense of the men and women who work daily in the factories.
Ahrens: Terrence wrote a monologue for Henry Ford that once again leapt into words and music. Here, factory workers become a human assembly line, turning out the Model T Ford that Coalhouse Walker will buy. In the original production, an actual Model T rolled off the line, Coalhouse Walker landed triumphantly in the car, and then drove it straight offstage. Only on Broadway! Terrence later rewrote Henry Ford's narrative so that the sequence could be performed without an actual car." –  Ahrens and Flaherty on writing "Henry Ford"
__
John Pierpont Morgan Sr. was born into the influential Morgan family in 1837. His father and grandfather were successful bankers and J.P. received the best education possible for a budding businessman at the time. He skirted around serving in the military during the civil war and instead made a profit selling war materials. He used his wealth to finance railroads, organize U.S. Steel, General Electric, and other corporations. J.P. partnered with Anthony Drexel in 1871 to form a banking firm that later became recognized as J.P. Morgan & Company. Most notably, Morgan helped bail out Wall Street during the 1907 financial crisis. Interestingly enough, Morgan was booked to embark on the Titanic's first, and only, voyage across the Atlantic Ocean. He, however, had to cancel his tickets and never set sail.
JP Morgan appears during the number "Success" when Tateh and the Immigrant Ensemble are singing about the hope of experiencing success in America. In the original script, Morgan "thunderously appears" on a bridge that, as he speaks, drops until it "practically crushes the Immigrants." Morgan sings " You Immigrants, look up to me, and you'll see what money is worth!/ One day, your Immigrant sweat might get you the whole U.S." Morgan's appearance at this moment in the show is absolutely meant to accentuate Morgan's status as a robber baron of the Gilded Age and the way the 'successful' upper class painted false hope for the Immigrants coming to America in pursuit of the 'American Dream.'
"Flaherty: I personally struggled with this song for quite a while, trying to find a fresh take on the sound of our Eastern European immigrants. (It couldn't sound like watered-down Fiddler!) Finally, I hit upon the notion that this song should contain elements of the new world and the old world, using ragtime and American syncopation for the new and klezmer colors suggesting the old. On going back to my notes, I saw that I had tried a similar approach in my original musical sketch, which was titled "Silhouette Man." Sometimes you just have to trust your original instincts! Here is Peter Friedman, again as Tateh, with Judy Kaye as Emma Goldman.
Ahrens: Terrence's concise dramatic scenes weave in and out of this sequence, building the story, as
the immigrant Tateh begins with hope but is battered down by the hardships and prejudices he encounters in New York. The Broadway staging placed JP Morgan high on a catwalk that slowly lowered and crushed the immigrants. But Tateh also envisions another immigrant, the famed Harry Houdini, who gives him encouragement. These words are about Tateh's defiant vows to escape." – Ahrens and Flaherty on writing "Success"
More information on the lives of Henry Ford and JP Morgan:
Post 9: Historical Figures in Ragtime – Emma Goldman
Emma Goldman was born in Lithuania to an Orthodox Lithuanian Jewish family. She emigrated to the US in 1885 and gravitated towards anarchism while sustaining a profession as a writer and lecturer on anarchist philosophy, women's rights, and social issues. She acted as an accessory in Alexander Berkman's attempted assassination of steel magnate Henry Clay Frick. She was also blamed as the inspiration for Leon Zcolgosz's assassination of President William McKinley. She spent two years in the Missouri State Penitentiary for opposing the draft during World War I. In December 1919 she was deported to Soviet Russia along with Berkman during what we now call the First Red Scare. Upset by the way the revolution was going in the Soviet Union, Goldman left and spent the rest of her life traveling throughout England, Canada, and Spain. Goldman's last real anarchist effort took her to Spain during the Spanish Civil War where she helped spread anti-Franco sentiment.

Goldman is a loud voice throughout Ragtime. She first appears in the opening number, introducing herself to the audience between Henry Ford and J.P. Morgan, and Evelyn Nesbit. She tells the audience " The radical anarchist Emma Goldman fought against the ravages of American capitalism as she watched her fellow immigrants' hopes turn to despair on the Lower East Side." Throughout the show, Goldman acts as a radicalizing figure both in her physical presence and also in the lingering effects of her anarchist philosophies.
"Flaherty: This song started out as a near-solo for Younger Brother (which can be heard, in an alternate version, on the earlier "concept" album Songs From Ragtime.) Ultimately, it was decided that the audience should "see" Younger Brother radicalized by Goldman, and in a more surreal way. Sidebar: Younger Brother was Terrence McNally's favorite character in the show.
Ahrens: Younger Brother is "a firework, unexploded" and the rabble-rousing Emma Goldman is the match that sets his heart alight. He ducks into a rally on a cold winter's night, and suddenly imagines that Emma is speaking just to him, calling him out on his youthful foolishness. It's a surprising moment, a sudden realization of purpose for the character, and by the end he is lyrically and literally "standing on a chair."" – Ahrens and Flaherty on writing " The Night That Goldman Spoke at Union Square"
Image: Emma Goldman, Chicago, 1906. New York University, Tamiment Archives.
For more information on the life and work of Emma Goldman:
Post 10: Historical Figures in Ragtime – Evelyn Nesbit, Stanford White, and Harry Thaw
Evelyn Nesbit was America's first supermodel. Born in a small town near Pittsburgh, Nesbit lived in poverty with her mother and siblings after her father died unexpectedly. Her mother eventually relocated the family to Philadelphia where Evelyn was "noticed" and began sitting as a model for artists. Realizing that she could make more money modeling for artists than she did working at Wanamaker's department store, Evelyn embarked on a full-time modeling career. In June of 1900, Evelyn's mother moved the family to NYC in pursuit of a seamstress job. Using letters of introduction from the artists she worked with in Philadelphia, Evelyn very quickly became one of the most in-demand models of the time. In July of 1901, Evelyn took to the Broadway stage as a chorus girl in the play Florodora. She continued her Broadway career in The Wild Rose and in Vashti.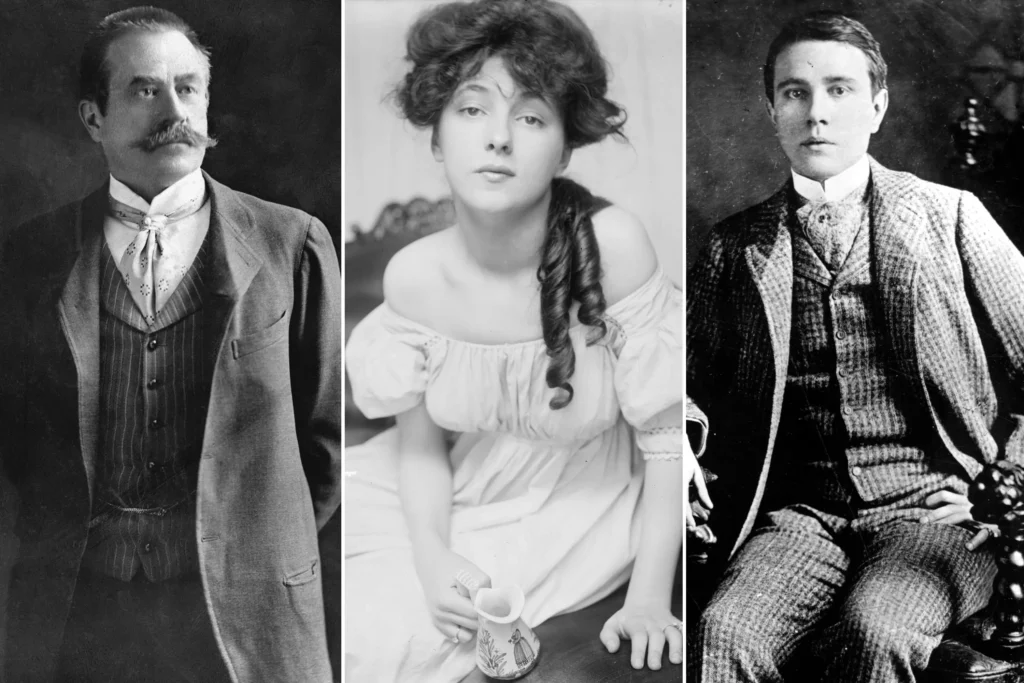 Evelyn was introduced to future lover Stanford White by a fellow Florodora chorus girl. Evelyn, 15 or 16 at the time, attended a lunch party at White's multi-floor apartment wherein she, White, and a few other guests played various games that revolved around a velvet swing. White sponsored the Nesbit family providing them with money for better living arrangements, education, and trips. Nesbit recalls being sexually assaulted by White one evening after modeling a Kimono. Throughout their relationship, White had been having other affairs with young women throughout NYC. Evelyn eventually married Harry K. Thaw, the son of a Pittsburgh railroad baron. Although Thaw was known to be mentally unstable, he was the heir to a $40 Million fortune. Thaw and Nesbit married on April 4th, 1905 following a tumultuous courtship on Thaw's end. Throughout their courtship and early marriage, Thaw became increasingly aggressive towards White, accusing him of "ruining" his wife. Thaw ultimately shot and killed White in the middle of Cafe Martin after he and Evelyn attended a show at Madison Square Garden that White also happened to attend. Thaw was taken into police custody, Nesbit sought refuge at a friend's apartment, and the press immediately began reporting White's murder as the crime of the century. The trials riveted the nation and became headline news.
In the opening number of Ragtime, Evelyn appears on a swing and introduces herself as "the most beautiful woman in America." We also meet White and Thaw who tell us about White's murder. Evelyn's big number comes towards the end of Act I. In the number "Crime of the Century," Evelyn recounts the murder of White and Thaw's trial. It's also the first time we see Younger Brother fawn over Evelyn. Throughout the show, Evelyn acts as a counterweight to Emma Goldman's serious anarchist philosophies and to Mother's upper-class demeanor. Evelyn's story exemplifies the hysteria of the press, popular culture's obsession with celebrity and drama, as well as the treatment of women in the press and on stage.
"Flaherty: We'd written a song for Evelyn Nesbit as one of our original four "audition" songs. It was a naughty, jazz-baby song called "You Don't Know" and was sung to Younger Brother after they had made love. When the plot changed (Spoiler alert: Evelyn and Younger Brother don't get together anymore in Ragtime!) we wrote another song for Evelyn, "Girl On The Swing." This was also replaced at an early reading by "The Crime Of The Century," which focused on the murder trial. Seeing as this song featured many facts of the trial, it was lyrics-first. It is sung here by my CCM friend-from-college, Lynette Perry—who also sang the chorus girl parts on our original demo of the song.
Ahrens: One of my first professional jobs as a songwriter was on the famous animated TV series Schoolhouse Rock. Writing those three-minute musical history lessons taught me to how to describe a complicated subject in a concise and entertaining way. It served me well in this number, which spells out the story of a famous American scandal, using a vaudeville motif, and even introduces the character of Younger Brother, played by Steven Sutcliffe. A very hardworking expositional number in the guise of an entertainment." – Ahrens and Flaherty on writing "Crime of the Century"
More information on Evelyn Nesbit and the "Crime of the Century"
Dramaturgical information put together by Fulton Digital Media Manager Katie Jacobsen.